A Family Transformed
Author: Hal H
Date Submitted: Jul 13, 2021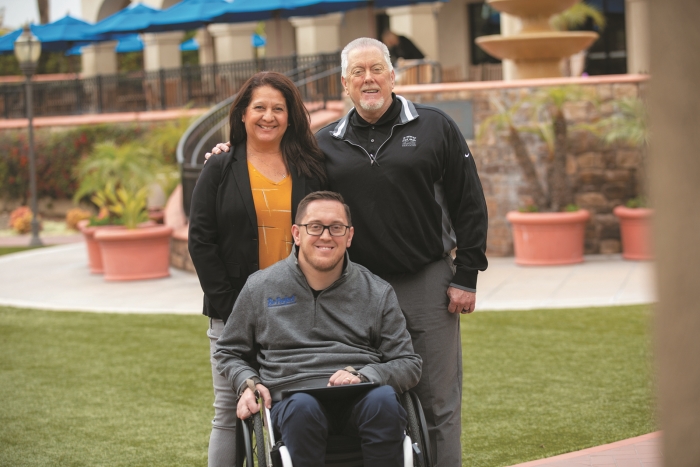 When Lorie Hargrave and Hal Hargrave, Sr., arrived at Casa Colina with their eldest son in August 2007, they had already experienced the worst of the shock and grief at the news that Hal, Jr., had suffered a traumatic injury in an accident on a lonely stretch of highway near Barstow, California.
The semi Hal was driving rolled over four times when he swerved to avoid some blown-out tire tread. His truck cab was crushed. Unable to move, Hal waited for rescue crews, who airlifted him to a nearby trauma center.
Lorie and Hal, Sr., rushed to reach him, not knowing if he would be alive when they arrived. They would soon learn that Hal, Jr., had broken his neck and fractured his vertebrae at the C5/C6 level—one of the most disabling spinal cord injuries.
He survived an eight-hour surgery to insert metal plates in his neck. Now what?, the family asked themselves. An athletic teenager who had looked forward to a college baseball scholarship was now a quadriplegic, unable to move from the shoulders down. The doctors gave Hal, Jr., a 3% chance of walking again.
The Hargraves had heard of Casa Colina Hospital because their family business was only blocks away from the famed physical rehabilitation facility. They knew its great reputation for treatment innovations and outcomes. They would soon find out it specialized in caring for families, too.
"We weren't sure what the next phase for Hal and for us as a family would be," said Hal, Sr. The moment they settled into Casa Colina, he said, "as a dad, I instantly felt some peace of mind."
Lorie, who had spent days crying, felt optimistic in the warm, homey atmosphere, where they could heal as a family. "Casa Colina gives people hope," she said.
Hal, Sr., took the night shift, sleeping beside his son's hospital bed. Lorie took the day shift. In the afternoons, Hal's younger brother and sisters—Corey, Haley, and Bella— came to Casa Colina to do their homework and play games in one of the many family rooms. At night, the family ate their dinners together in the cafeteria.
"It gave me a sense of normalcy to have them all there," said Hal, Jr. "I realized I could still be a brother and a mentor. I was still Hal."
"Research shows that people with strong family support have better outcomes," said David Patterson, MD, Hal, Jr.'s physiatrist. "So we do all we can to help families provide that support." Dr. Patterson made himself easily accessible to Hal, Jr., and his parents, preparing them for each aspect of recovery.
About three weeks after arriving at Casa Colina, Hal, Jr., turned 18 and Bella three. The family asked if they could have a birthday party in one of the hospital courtyards. Nearly 300 people showed up. "That we could do that is a tribute to Casa Colina's values as a family place," said Hal, Jr.
He and his parents began to learn there is hope after a spinal cord injury—a life that can be happy and fulfilling. He immersed himself in physical and occupational therapy, as well as the counseling Casa Colina offered. "Little did I know, the hospital was reaching out to my family as well," said Hal, Jr.
Lorie and Hal, Sr., attended family support groups, took part in medical team conferences, observed therapy sessions, and threw themselves into all the education Casa Colina doctors, nurses, and physical and occupational therapists provided.
"The staff not only answered all our questions," recalled Lorie, "they anticipated what we needed to know to build our new future."