Extending the Life of a Loving Mother
Author: Barbara B
Date Submitted: Jul 13, 2021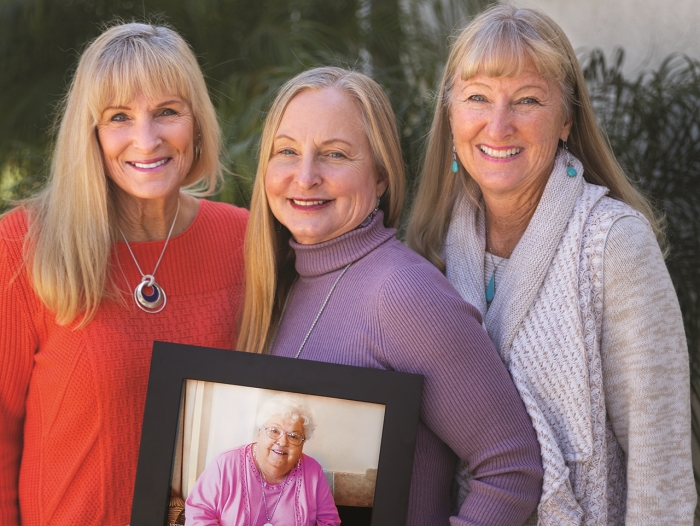 With Casa Colina's 80-year history of excellence, the Bosserman family knew it represented their mother, Barbara's, best possible chance of recovery after she suffered a stroke in November 2011.
As a respected medical oncologist at Casa Colina Hospital and San Antonio Regional Hospital now working at City of Hope Medical Center, Linda Bosserman, MD, FACP, FASCP, understands the importance of personalized care and the difference it can make in healing. Dr. Bosserman and her siblings—Nancy Bryant, Susie Fraize, and Steve Bosserman—found comfort in the intimate environment of Casa Colina, knowing their mother's needs would not get overlooked in the hustle and bustle of a larger facility.
Most of all, the siblings appreciated access to "the remarkably talented, patient, and kind teams of docs, nurses, and physical therapists who convinced our mom she could and would walk again," said Dr. Bosserman.
Barbara Bosserman was an intrepid '50s woman, married out of high school and determined to raise empowered, independent children. She taught them how to cook and sew, knit and crochet, camp, hit a tennis ball, and play and sing music. She encouraged each in their diverse interests, and in "how to sacrifice for the important things in life and for each other," said Dr. Bosserman.
Unfortunately, Barbara had a history of hypertension and of smoking, though she had quit cigarettes decades before. The stroke left her dominant leg and arm weak and dysfunctional. But Casa Colina's therapists "held a vision of her healing even when she'd get discouraged," said Dr. Bosserman.
After about three weeks of intensive therapy, Barbara was discharged—but only after Casa Colina experts did a home assessment and made recommendations to the family to ensure her safety.
Casa Colina's beautifully appointed campus became her home away from home during Barbara's months of outpatient physical therapy. Swimming in the pool and other strength-building exercises increased her confidence and mobility.
Watching their mother get stronger and be able to play her beloved bridge again and spend time with her grandsons also gave her children a sense of joy.
Over the next five years, Barbara would suffer additional health setbacks involving two more strokes. Her family worried she would not be able to reclaim any of her independence. But each time she was admitted to Casa Colina, she gained a measure of assurance. Barbara was able to revel in family baby showers and beach days and to welcome her first great-grandchildren.
"Casa Colina experts gave our mom seven more vital years," said Dr. Bosserman. "The admissions, therapy, and teaching at Casa Colina let our mother spend her final years doing what she enjoyed most—sharing life and laughter with her family and inspiring each of us to make a difference in the lives we touch."
In July 2018, Barbara passed away at age 84. "My mom's story is just one example among thousands," said Dr. Bosserman, "of the remarkable impact that Casa Colina and its staff and services have on people's lives."