Getting Strong Now
Date Submitted: Jul 25, 2022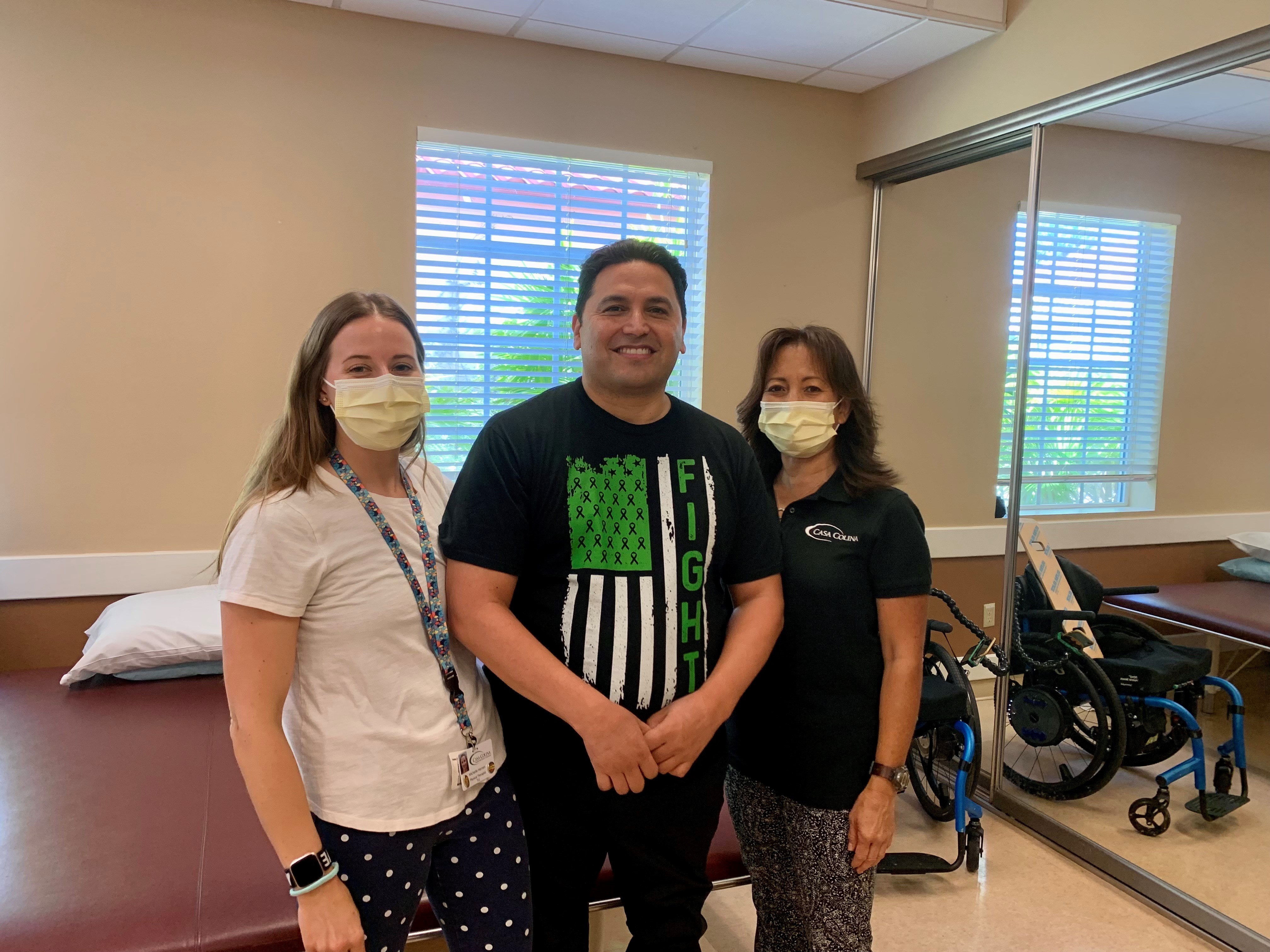 A relaxing family gathering suddenly took a devastating turn when Ruben "Trini" Martinez dove into his brother-in-law's pool in March 2021. He hit his head and ruptured his C5 vertebra. He was knocked unconscious, paralyzed in all his limbs, and suffered a spinal stroke.
Trini couldn't move. His niece and her boyfriend, both nurses, quickly went into action to save him after drowning. They stabilized his neck and began CPR prior to the EMTs' arrival. "I wouldn't be alive if it weren't for them," Trini recalls.
In addition to an incomplete spinal cord injury, his lungs filled with water from the drowning. His condition was so grave that he was intubated for the first three weeks prior to surgery for his neck fracture, and he was given a tracheotomy to help him breath. He survived three bouts of pneumonia.
Neurologists initially told his wife, Carmy, that he may not be able to breathe or eat on his own. "I appreciate you telling me that, but you don't know my husband. He has a tremendous spirit," she said at the time.
When he arrived at Casa Colina Hospital for inpatient rehabilitation in late April, there was hope that he might improve within its Spinal Cord Injury Program—he was already regaining some movement in his left arm. On his second day of inpatient care, the breathing tube was removed.
Trini was too weak to even pick up a fork. He had spent weeks in bed after his injury. His team of therapists went straight to work, helping him sit and stand upright and moving his limbs with machines. They placed him in a Vector lift that supported his entire body weight so that he could stand. He recalls his first walk vividly: "One therapist moved my right leg. One therapist moved my left leg. Another therapist guided my torso and another therapist helped with the lift.
"They put so much effort and care into helping me regain my strength, muscle memory, and mobility," he says.
By the time he transferred to Casa Colina's Transitional Living Center (TLC) two months later, he needed 50 to 65 percent of his body weight assisted by the lift.
What could Trini accomplish with more intensive therapy? He and Carmy were determined to find out. They moved into one of Casa Colina's adjacent homes for three months to be close by for TLC's Day Treatment Program, where he received five hours of occupational and physical therapy a day.
His physical therapist, Michelle Herren, and occupational therapist, Suzanne Goya, were just as eager to discover what he could do with the right stimulation. They constantly bounced ideas off each other, looking for new exercises or skills for Trini to try.
Now, Trini has moved back home but continues his time in Day Treatment. Michelle and Suzanne know if they can continue to redevelop his strength and sensory awareness, Trini will be able to move more independently. This means treating him from all angles to maximize his function and keeping it fun by talking about their favorite 80s tunes and movies on Netflix.
Each day, his therapists test the boundaries of what's expected for his diagnosis. With the help of their persistence and creativity, Trini often exceeds those boundaries.
"Trini's determination, mixed with his hunger to understand how his new body works, pushes him harder in every session," explains Suzanne. "His willingness to try anything allows us to be more creative with our therapies."
Now, he moves around the therapy gym with just 15 to 25 percent of his body weight assisted, depending on the skills he's working on.
"Just because something didn't work once doesn't mean that we won't try again later and succeed. I keep it in my back pocket to try later," explains Michelle.
After many attempts in prior sessions, he recently walked toward a set of stairs and, without hesitation, climbed two of them. He recalls, "In that moment, I felt like I was in that scene of Rocky when he climbed the stairs in Philly. It was just two stairs, but I was so happy!"
No one knows with certainty how far Trini will go, but as he progresses with therapy, they are happy to keep moving the finish line. Cue the Rocky theme song. He is getting strong now.