Up in the Air
Author: Daniel V
Date Submitted: Jul 13, 2021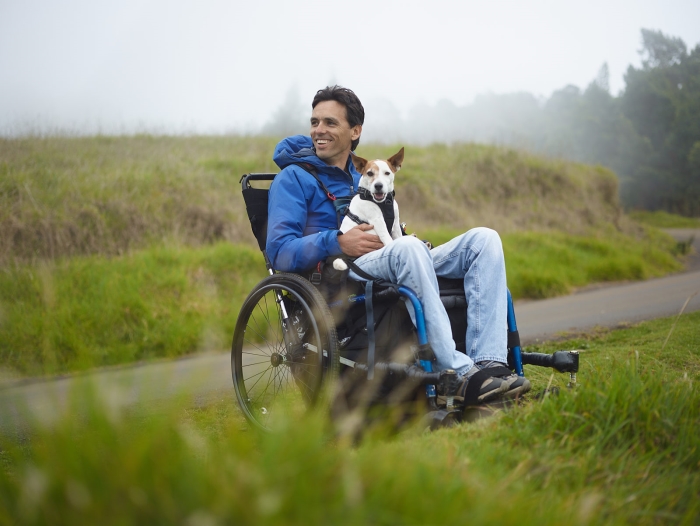 Eight years ago, a tragic accident left him paralyzed from the chest down. But it wouldn't be the last time he flew.
As a young man in Colombia, Daniel Velasco discovered paragliding and became an instant convert. He craved the bliss and freedom of transcending the bustle of earthly concerns. Daniel eventually relocated to Hawaii—a popular locale for the burgeoning sport. He immersed himself in the culture, sharpening his skills at paragliding sites on the Big Island, Maui, and Oahu. "It's almost like a religion," says Daniel. "It becomes such an important part of your life."
Eleven years and hundreds of flights later, as Daniel swept along the picturesque Maui coastline one spring day, his glider became caught in a downdraft. He spiraled, hitting the ground forcefully and sustaining a T6/T7 spinal fracture.
After undergoing surgery and a few weeks of inpatient rehabilitation at a Honolulu hospital, Daniel was set to be discharged into an uncertain new life. A therapist there believed Daniel was ready for further acute therapy, but insurance would not cover it. Through a local contact, Casa Colina President and CEO Dr. Felice Loverso learned of the case. He believed Daniel could benefit greatly from Casa Colina's signature Spinal Cord Injury Program. With the help of the Casa Colina Foundation's Free and Subsidized Care Fund, Dr. Loverso agreed to support Daniel's short-term residential rehabilitation at Casa Colina's TLC.
Daniel arrived in April 2011 and quickly earned a positive reputation. Therapists admired his determination, and he consistently exceeded expectations. For the next several weeks, he made impressive strides during six hours of challenging physical and occupational therapy, six days per week. Activities like aquatic exercise, hand-cycling, and frequent community outings helped him build strength, mobility, and confidence.
His mother, Rosana, stayed in one of Casa Colina's adjacent homes to support Daniel during his therapy. Daniel also benefitted emotionally from weekly spinal cord injury support groups.
For all his progress at Casa Colina, however, it was clear that his days running high on the hillside trails of Kauai were over.
"At first I was like, well, my life is gone. Let's try to be somebody else and live a new lifestyle," he says. A competitive triathlete who excelled at outdoor sports, Daniel was at a difficult crossroads.
"Eventually I realized: I'm really who I am and it's not going to change. My tendency is to keep pursuing activities because it's the thing in life that gives me the most joy."
So he persevered. When Casa Colina doctors thought he was ready, Daniel returned to Maui. There, he continued to pursue hand-cycling and swimming. Eventually, Daniel found his way back to paragliding, befriending a tight-knit group of pilots determined to get him flying again. Nearly five years after his accident, with their help, Daniel finally took flight on a crowdfunded paragliding trike.
"It really picked up my spirits again when I came back to flying," he says. Today, he flies as often as he can at a local spot up the road from his home. Thanks to a natural talent for engineering, he hand-built a lighter, more comfortable trike. He even takes his Jack Russell Terrier, Boogie, on tandem flights.
But coordinating his next adventure isn't always easy. Typically, getting Daniel airborne requires the assistance of another pilot. And travel can be difficult and expensive with bulky equipment. So when he can't fly, he goes with the flow and stays positive.
"I really value all the good things that I have," says Daniel. "I have so much more good than bad. I was taught a lot of that at Casa Colina—so many little pieces of advice that have made a huge difference."
Despite his injury, Daniel still considers paragliding a conservative risk. "It's a risk I take, but I don't consider myself a crazy risk-taker.
"It's worth doing it," he continues. "I think what's depressing is when you stay too much in the home routine. You have to change it up.
"The irony is, the same thing that broke me kind of came back and saved me."