Casa Colina Director of Outdoor Adventures Talks Wheelchair Sports on The Wheel Print Podcast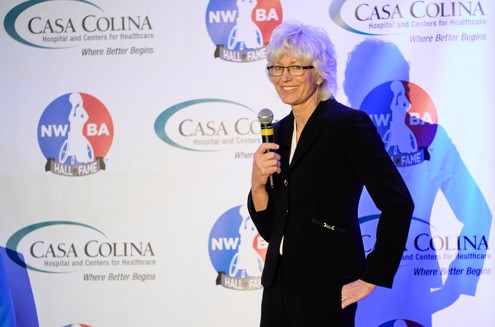 Casa Colina Hospital and Centers for Healthcare is proud to offer a comprehensive continuum of care for individuals with spinal cord injury and other disabling neurological injuries. That continuum culminates with our Outdoor Adventures program, which offers wheelchair sports and adaptive recreation to help those with disabilities improve fitness and healing, build community, and increase self-confidence and independence.
Recently, Casa Colina's Director of Outdoor Adventures and Recreational Therapy, Lisa Hilborn MA, CAPE, joined legendary wheelchair basketball player and National Wheelchair Basketball Association Hall of Fame Chair David Kiley on Kiley's podcast, The Wheel Print.
A trailblazer in her own right as a Paralympic trainer, wheelchair basketball coach, and more, Hilborn discussed her and Kiley's shared history in wheelchair sports, her extensive experience launching and building successful wheelchair sports programs, and Casa Colina's recent sponsorship of the 2023 NWBA Hall of Fame Induction ceremony in April 2023.
Photo credits: Darrin Hackney