CASA COLINA HOSPITAL AND CENTERS FOR HEALTHCARE DISPLAYS PATIENT-CREATED, PAIN-CENTERED ART EXHIBIT
Exhibit Accompanies Chronic Pain Awareness Month
POMONA, Calif., Sept. 7, 2017 — Casa Colina Hospital and Centers for Healthcare, a leading physical rehabilitation and medical-surgical services provider, today announced a new on-site art exhibition displaying patient-created images that depict the patients' perspectives of chronic pain. Titled "The Wonder of Pain," the exhibit is available to the public Sept. 7–29, 2017.
"I am excited to be a part of this very insightful exhibit," said exhibit designer Daniel Skenderian, Ph.D., director of Neurobehavioral Sciences at Casa Colina Hospital and Centers for Healthcare. "A new bio-psycho-social model of pain, each image represents its artist's perspective of how he or she depicts his or her individual chronic pain. These new models help medical staff consider comprehensive, multidisciplinary treatment options instead of just focusing on medication or surgery to relieve chronic pain."
Male artist, age 50, low back pain.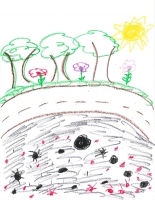 Female artist, age 43, spinal cord injury pain. 
The exhibit includes 13 original drawings, all of which have been created by Casa Colina patients who have received in-patient care for various types of chronic pain. Each image is identified by the artist's gender, age and type of chronic pain. The drawings are the result of the prompt, "If you could visualize your pain in your mind, what would it look like?"
"All the pictures are quite different, but there are also commonalities, such as the use of the color red to represent pain," added Skenderian. "The use of color, design and intensity all demonstrate an emotional component of pain. Although each patient experiences pain differently, these models provide very insightful perspectives."
September is Chronic Pain Awareness Month, according to the American Chronic Pain Association. With chronic pain afflicting more than 25 percent of the adult U.S. population, modern medicine continues to conduct research to further manage and understand the origins of chronic pain, which is defined as ongoing or recurrent pain that lasts beyond the usual course of acute illness or injury and that adversely affects the individual's well-being.
For more information on Casa Colina Hospital, call 909/596-7733, ext. 3900 or visit www.casacolina.org.
About Casa Colina Hospital and Centers for Healthcare
Casa Colina Hospital and Centers for Healthcare was founded in 1936 in Chino, Calif., under the leadership of Frances Eleanor "Mother" Smith and other community leaders and physicians to provide rehabilitative care to children with polio. In the early 1950s, when polio was at epidemic proportions, a plan was developed to build a new hospital in nearby Pomona, Calif. In 1959, the new hospital was completed, and Casa Colina expanded its physical rehabilitation services to concentrate on treating people of all ages and disabilities resulting from neurological and/or orthopedic conditions. In recent years, Casa Colina has renovated its entire 20-acre Pomona campus to build a continuum of rehabilitative care unmatched in the Western United States. Casa Colina was recognized by Modern Healthcare in 2015 as the 13th largest rehabilitation provider in the country. Services offered to the community include a state-of-the-art hospital offering acute rehabilitation and medical surgical care, outpatient services, post-acute residential rehabilitation care, children's services, adult day health care, specialized physician clinics, diagnostic imaging, ambulatory surgery center, outdoor recreation program, a medical office building, and more. The Casa Colina Hospital Medical-Surgical Wing opened to the community on April 1, 2016. For more information, please visit www.casacolina.org.