Casa Colina Hospital Receives Healthgrades Five-Star Rating For Total Knee Replacement
Pomona, CA – August 15, 2019 – Casa Colina Hospital and Centers for Healthcare has received a Five-Star rating in the category of "Total Knee Replacement" based on performance and quality data evaluated by Healthgrades, the leading online resource for comprehensive information about physicians and hospitals.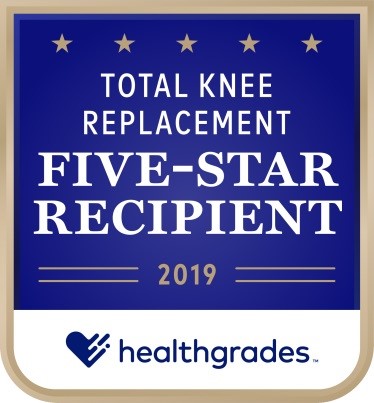 Casa Colina's Revive Joint Replacement Program offers both minimally invasive and robotic-arm-assisted total knee replacements, also known as total knee arthroplasty. A relatively recent advance in orthopedic surgery, robotic-arm-assisted total knee replacements are designed to be less invasive and are considered more surgically precise. Led by a multidisciplinary team of clinicians who specialize in joint replacements, including an orthopedic care coordinator, the Revive Program uses proven clinical pathways and protocols to map out each patient's care plan and maximize their chances for a successful surgery and rapid recovery. In addition to total knee replacements, Casa Colina Hospital's orthopedic surgery team performs partial knee replacements, total hip replacements, and hip, ankle, and shoulder replacements.

Healthgrades evaluated approximately 45 million Medicare inpatient records for almost 4,500 short-term acute care hospitals nationwide to assess hospital performance in 32 common conditions and procedures. A Five-Star rating indicates that Casa Colina Hospital's clinical outcomes are "statistically significantly better than expected when treating the condition or performing the procedure being evaluated," according to Healthgrades.

"Our joint replacement patients receive highly personalized surgical and rehabilitative care, all overseen by board-certified surgeons, registered nurses, and physical therapists that specialize in orthopedics," said Luis Corrales, MD, Revive Program Medical Director. "In addition, we are pleased to offer cutting-edge robotic-assistive technology that allows for faster recoveries and improved outcomes overall. Our patients are up walking hours after their procedure and are discharged the same or next day."

Casa Colina also received a Five-Star rating in the "Treatment of Pneumonia" category. In addition, Casa Colina Hospital is a recipient of the 2019 Healthgrades Patient Safety Excellence Award TM, which recognizes hospital excellence in safeguarding patients from serious, potentially preventable complications during their hospital stay. The ratings and award were given for the study period of 2015-2017.

"Clinical quality varies significantly between hospitals, so it's important for consumers to use information about outcomes to assess where to receive care," said Brad Bowman, MD, Chief Medical Officer at Healthgrades. "These accolades underscore not only Casa Colina Hospital's procedural expertise in total knee replacement, but their broader commitment to patient safety."

Join Dr. Corrales for a free community seminar titled "Setting a New Standard in Total Knee Replacement Surgery" on Wednesday, September 11 from 6 to 8 p.m. at Casa Colina Hospital and Centers for Healthcare in Pomona. To reserve your space, call 866/724.4132. For more information on the Revive Joint Replacement Program, visit www.casacolina.org/move .

About Casa Colina Hospital
Casa Colina Hospital and Centers for Healthcare is a nonprofit provider of highly specialized medical and rehabilitative care for people of all ages with disabling conditions resulting from accidents, disease, or illness. Its continuum includes 219 beds consisting of medical-surgical and intensive care, acute rehabilitation, residential rehabilitation, and long-term residential care. Outpatient services include rehabilitation for adults and children, physician specialty clinics, diagnostic imaging, adult day healthcare, and more. In addition, the Casa Colina Research Institute conducts clinical studies to improve patient care and discover new findings about disabilities.

Casa Colina Hospital is located in Pomona, California, with more than 80 years serving the surrounding community and beyond. Visit www.casacolina.org to learn more.