Casa Colina's Tribute to Courage Gala Honors First Responders, Raises $657K to Fund Free and Subsidized Care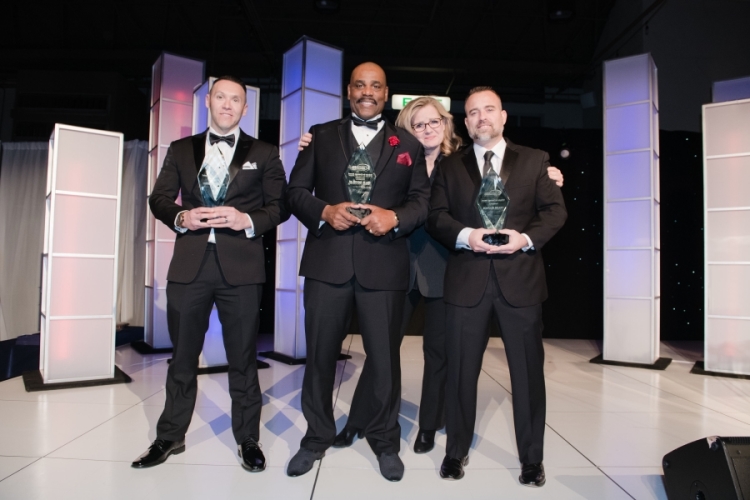 Prominent figures from healthcare, government, and business turned up to celebrate Casa Colina Hospital and Centers for Healthcare at its annual Tribute to Courage Gala Saturday, March 9, at the Sheraton Fairplex Hotel and Conference Center in Pomona, California.
Casa Colina honored three first responders from law enforcement and emergency services: Tyler Blondi, Ira Douglas, and Trevor Stevenson. Severely injured in the line of duty, each faced major recovery challenges but ultimately prevailed through Casa Colina's Continuum of Care and strong family support.
Actor, writer, and director Bonnie Hunt hosted the event. A longtime Casa Colina supporter and former oncology nurse, Hunt spoke about the determination, family support, and clinical expertise that helped each honoree recover from traumatic brain injury.
After a DUI driver hit his motorcycle, Pomona police officer Trevor Stevenson came to Casa Colina unable to walk, with severe injuries, including traumatic brain injury. With aggressive daily therapy and family support, Stevenson has since returned to full duty with the Pomona Police Department. Stevenson credited Casa Colina physicians and therapists with his recovery.
In April 2012, while heading to an emergency call, the ambulance Ira Douglas was driving was broadsided by a garbage truck. Douglas was found unconscious, slumped over the steering wheel, requiring extrication from the vehicle. He spoke emotionally about the challenges of his resulting traumatic brain injury and spinal stenosis. With a lengthy rehabilitation at Casa Colina, Douglas has since returned to full duty as a firefighter-paramedic.
Veteran Beverly Hills Police Officer Tyler Blondi suffered several serious injuries over his career, including multiple ACL tears and severe head trauma that eventually resulted in a diagnosis of traumatic brain injury. Blondi spoke of finding the help he needed at Casa Colina, which he said allowed him to resume a healthy life. After medical discharge from his patrol job, Blondi is forging a new career as a college instructor and still maintains professional ties to law enforcement administrating polygraphs.
More than 900 attendees were on hand to learn about these patient outcomes from Casa Colina's Continuum of Care, which includes acute rehabilitation, medical-surgical services, transitional living, outpatient services, children's services, and more. The honorees were given a standing ovation in addition to each receiving Casa Colina's Tribute to Courage Award.
"Behind these success stories is an intricate network of caregivers and public servants that our patients count on in their most vulnerable moments," said Dr. Felice Loverso, Casa Colina President and CEO. "Whether it's remarkable first responders like Tyler, Ira, and Trevor; ER staff; or the doctors, therapists, and case managers who faithfully serve them throughout their recoveries, our patients rely on a complex healthcare delivery system designed to support them when they need it most."
"At Casa Colina, we are proud to be an integral part of that system," he added.
The Tribute to Courage Gala is Casa Colina's primary fundraising event. This year's gala raised $657,000 toward free and subsidized care for under-resourced patients and, in some cases, temporary housing for families to be near loved ones during rehabilitation.
Diamond sponsors included Mary Lou Jensen, Chien-Ying Yeh, and Kin-Ding Au. Platinum sponsors were Morrison Healthcare and UCLA Health Neurosurgery. Gold sponsors included Aday Architects, Air Conditioning Solutions, Allied Anesthesia Medical Group, American Classic Cars, Bentley & More Law Offices, Bioness, Dr. Felice and Denise Loverso, Moss Adams, National CORE, Odjaghian Law Group, Pacific Rim Rehabilitation Associates, Panish Shea & Boyle, Pomona Valley Hospital Medical Center, the Scudder Family, Shernoff Bidart Echeverria, and Williams Beck & Forbes.
For more information about Casa Colina Hospital and Centers for Healthcare or to donate to the Casa Colina Foundation, contact foundation@casacolina.org or 909/596-7733, Ext. 2222.