Casa Colina CEO and President Honored for Exemplary Career in the Field of Medical Rehabilitation
Casa Colina President and CEO Felice L. Loverso, PhD, has been given the Edward A. Eckenhoff Memorial Award by the American Medical Rehabilitation Providers Association (AMRPA), a national trade organization dedicated to the interests of medical rehabilitation providers and patients. Loverso was honored October 15, 2019, at AMRPA's Fall Educational Conference & Expo in San Diego.
Established in 2018, the Edward A. Eckenhoff Memorial Award honors one of AMRPA's founders, Ed Eckenhoff, who is considered a visionary in the rehabilitation field. Recipients must be AMRPA members who have demonstrated exemplary skills in the areas of administration, management, research, patient care, mentorship, and education within the field of rehabilitation.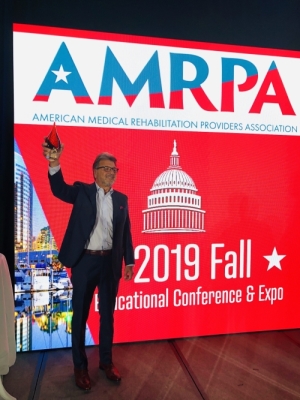 As past chair and current member of AMRPA's board of directors, Loverso has worked diligently to safeguard the interests of inpatient rehabilitation facilities (IRFs) nationwide. He has been a staunch advocate for accessible, affordable inpatient hospital rehabilitation.
Since 2009, Loverso has chaired the Fund for Access to Inpatient Rehabilitation (FAIR Fund), an organization of inpatient rehabilitation hospitals seeking to bring legal challenges to overly restrictive interpretations of medical necessity and burdensome documentation imposed by Medicare contractors.
While chairing the FAIR Fund, Loverso sought clarification on rules for Medicare claim denials and appeals and fought for the rights of Medicare providers and beneficiaries to challenge the untimely resolution of denials and appeals in the Center for Medicare and Medicaid Services (CMS) "RAC and other governmental Audit" processes. Loverso and other AMRPA leadership even appeared before U.S. Congress to argue in favor of regulatory relief after legitimate inpatient rehabilitation admission appeals became backlogged in years-long appeals.
As a result of these hard-fought efforts, in June 2019, CMS announced a global settlement to reimburse Medicare appeals at terms extremely favorable to IRFs.
Current AMRPA Board Chair Richard Kathrins, PhD, applauded his longtime colleague, calling the recognition well deserved.
"We owe much of our recent success to the leadership and guidance of Felice Loverso," said Kathrins, who also serves as CEO of Bacharach Institute for Rehabilitation. "With the help of his tireless efforts, AMRPA and the FAIR Fund have become the prominent voice for inpatient rehabilitation policy in Washington, DC."
About Casa Colina Hospital and Centers for Healthcare
Casa Colina Hospital and Centers for Healthcare is a nonprofit provider of highly specialized medical and rehabilitative care for people of all ages with disabling conditions resulting from accidents, disease, or illness. Its continuum includes 219 beds consisting of medical-surgical and intensive care, acute rehabilitation, short-term residential rehabilitation, and long-term residential care. Outpatient services include rehabilitation, physician clinics, diagnostic imaging, children's services, and more. In addition, the Casa Colina Research Institute conducts clinical studies to improve patient care and discover new findings about disabilities. Casa Colina is located in Pomona, Calif., with more than 80 years serving the surrounding community and beyond. Visit www.casacolina.org to learn more.